[Coast Guard Syllabus 2022] ICG GD, DB and Yantrik Syllabus and Exam Pattern | PDF
Join Indian Coast guard as gd, db or yantirk, Download Complete Syllabus and practice set here


Indian Coast Guard Navik GD Syllabus in Hindi | Navik DB, GD and Yantrik in Hindi
Downloadpdfnotes provides you important syllabus of Indian Coast Guard Navik GD (General Duty), Navik DB (Domestic Branch) and Yantrik for 2/2022 Batch.

भारतीय तटरक्षक नविक जीडी भर्ती के बारे में | About Indian Coast Guard Navik GD Recruitment
इंडियन कोस्ट गार्ड ने हाल ही में नविक (जनरल ड्यूटी) के पदों के लिए योग्य उम्मीदवारों से ऑनलाइन आवेदन की घोषणा और आमंत्रित की है।
नाविक जीडी पदों के लिए कुल रिक्तियों की संख्या 260 पद है। कई इच्छुक और योग्य उम्मीदवारों ने इन पदों के लिए ऑनलाइन आवेदन कर सकते है। इन पदों के लिए ऑनलाइन आवेदन जमा करने की प्रक्रिया 04 जनवरी 2022 (10:00 बजे) से शुरू हुई थी और इन पदों के लिए आवेदन करने की अंतिम तिथि 14 जनवरी 2022 (18:00 बजे) है।

परीक्षा शुल्क । Examination Fee
उम्मीदवारों (एससी/एसटी उम्मीदवारों को छोड़कर, जिन्हें शुल्क के भुगतान से छूट दी गई है) को रुपये का शुल्क देना होगा। 250/- (रुपये दो सौ पचास मात्र) नेट बैंकिंग का उपयोग करके या वीजा/मास्टर/मेस्ट्रो/रुपे क्रेडिट/डेबिट कार्ड/यूपीआई का उपयोग करके ऑनलाइन मोड के माध्यम से।

नविक जीडी परीक्षा के बारे में | About Navik GD Exam
इंडियन कोस्ट गार्ड (ICG) नविक (जनरल ड्यूटी) के पदों के लिए स्टेज 1 लिखित परीक्षा मार्च 2022 के मध्य/अंत में आयोजित होगी

चयन प्रक्रिया | Selection Process:
Indian Coast Guard will Complete th Navik General Duty (GD) Recruitment based on this Selection Process.

I. Written Test
II. Physical Fitness Test
III. Initial Medical Examination
भारतीय तटरक्षक नविक जीडी परीक्षा पैटर्न | Indian Coast Guard Navik GD Exam Pattern
I. लिखित परीक्षा वस्तुनिष्ठ प्रकार की होगी।
II. समय अवधि 01 घंटे थी।
III. 12वीं का कंपोजिट पेपर होगा।
IV. प्रश्न पत्र की भाषा हिंदी और अंग्रेजी दोनों होगी।
V. 80 प्रश्न होंगे।
VI. कोई नकारात्मक अंकन नहीं है। उम्मीदवार आगे बढ़ने से पहले इस संबंध में कागज पर छपे निर्देशों को पढ़ लें।
All Informatin about Exam of Indian coast guard Navik GD, Navik DB and Yantrik is given below:-
Selection Stage- I

Part 1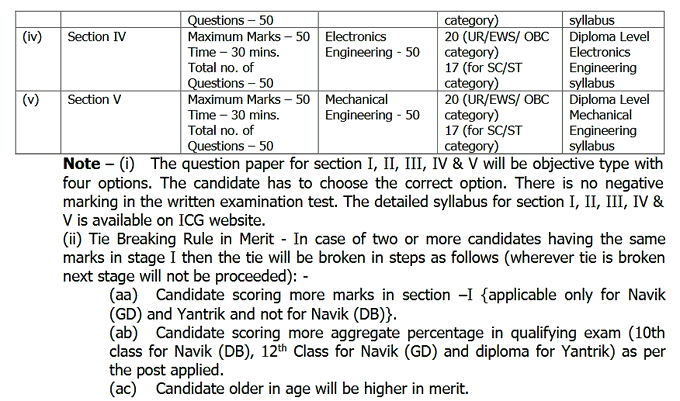 Part- 2

Selection STAGE-II
1. Based on the performance in the Computer Based Online Examination CBT, a merit list will be prepared and e-admit card for stage-II will be issued as per the vacancies available and ratio decided by ICG.
2. If candidate is shortlisted for stage-II, he will be required to upload additional documents as mentioned at Para 6 (c) (iv) and Para 6 (c) (v).
3. E-admit card for stage-II will not be generated till the additional documents are uploaded by the candidates within a time period as mentioned on ICG website. The duration of Stage –II will be from 1 to 2 days.

Stage-II involves following test which are only qualifying in nature-
Physical Fitness Test (pass or fail).
Candidates undergoing PFT will do so at their own risk. All candidates are advised to be in possession of sport rig (Shoe, T-shirt, Trouser)
PFT (Physical Fitness Test) consists of:-
a) 1.6 Km run to be completed in 7 minutes.
b) 20 Squat ups (Uthak Baithak).
c) 10 Push-up.
Selection STAGE- 3
Selection STAGE- 4

Coast Guard Navik GD Exam Syllabus 2022
ICG Navik GD General Duty written exam is as follows-
There will be a composite paper of 12th.
The written test will be of objective type.
The time duration was 01 hour.
There is no negative marking. The candidate should read the instructions printed on the paper in this regard before proceeding.
The language of the question paper will be both Hindi and English.
There will be 80 questions.
Indian Coast Guard Navik Syllabus– English
Spot the error
Antonyms
Spelling/detecting mis-spelt words
Idioms & Phrases,
One word substitution
Fill in the blanks
Synonyms
Improvement of sentences
Comprehension Passage
Indian Coast Guard Navik Syllabus– Mathematics and Quantitative Aptitude
Number System/HCF/LCM
Percentage, Average
CI & SI
Geometry
Mensuration
Trigonometry
Time & Work
Profit & Loss
Ratio, Mixture & Alligation
Time Speed Distance
DI
Algebra
ICG Navik General Duty Syllabus– GK
History
General Polity including Indian Constitution
Scientific Research
Culture
Geography
Economic Scene
Indian Coast Guard Navik Syllabus– Reasoning
Analogy
Symbolic/Number Classification
Number Series
Coding and de-coding
Numerical problems
Venn Diagrams
Figural Series
Problem series
Word Building
Drawing inferences
Embedded figures
Syllogism
तटरक्षक नविक जीडी की तैयारी के टिप्स | Coast Guard Navik GD Preparation Tips
Complete the complete syllabus, read every topic with equal importance
Participate in Daily Online Quiz on Current Affairs
Build strong vocabulary, learn important English grammar rules, practice questions
Attempt mock test series to check your preparation within the stipulated time
Make short notes for revision, revise the topics or topics at regular intervals to avoid forgetting them
Discuss their strategy with other candidates and exchange information
Practice sample question papers online and also from books
Source: Official Website

[PDF*] Coast Guard Guard GD Syllabus, Exam Pattern and Question Papers के नि: शुल्क PDF अध्ययन सामग्री लिंक-
Coast Guard GD Exam pattern pdf download




ICG Guard GD (General Duty)

Syllabus pdf download




Coast Guard Guard GD

Previous Year Question Paper

download


Coast Guard Guard GD

Practice Sets

pdf download

Source: Internet
Download links are given below:-
👇👇👇👇👇👇👇👇👇👇



Coast Guard (Yantrik) Complete Study Material, Books, Practice Sets, Syllabus and Paper Free Download
[Papers*] Coast Guard Navik DB (Domestic Branch) Exam Solved papers | Free pdf download
[Solved Paper] Indian Coast Guard Navik GD All Previous Year Question Paper pdf download
Download links are given below:-
[Yantrik Syllabus] Coast Guard Yantrik Exam Pattern, Question Papers | pdf download
Free Mock test of Indian coast guard GD
Indian Navy mathematics important exam questions | Free pdf download